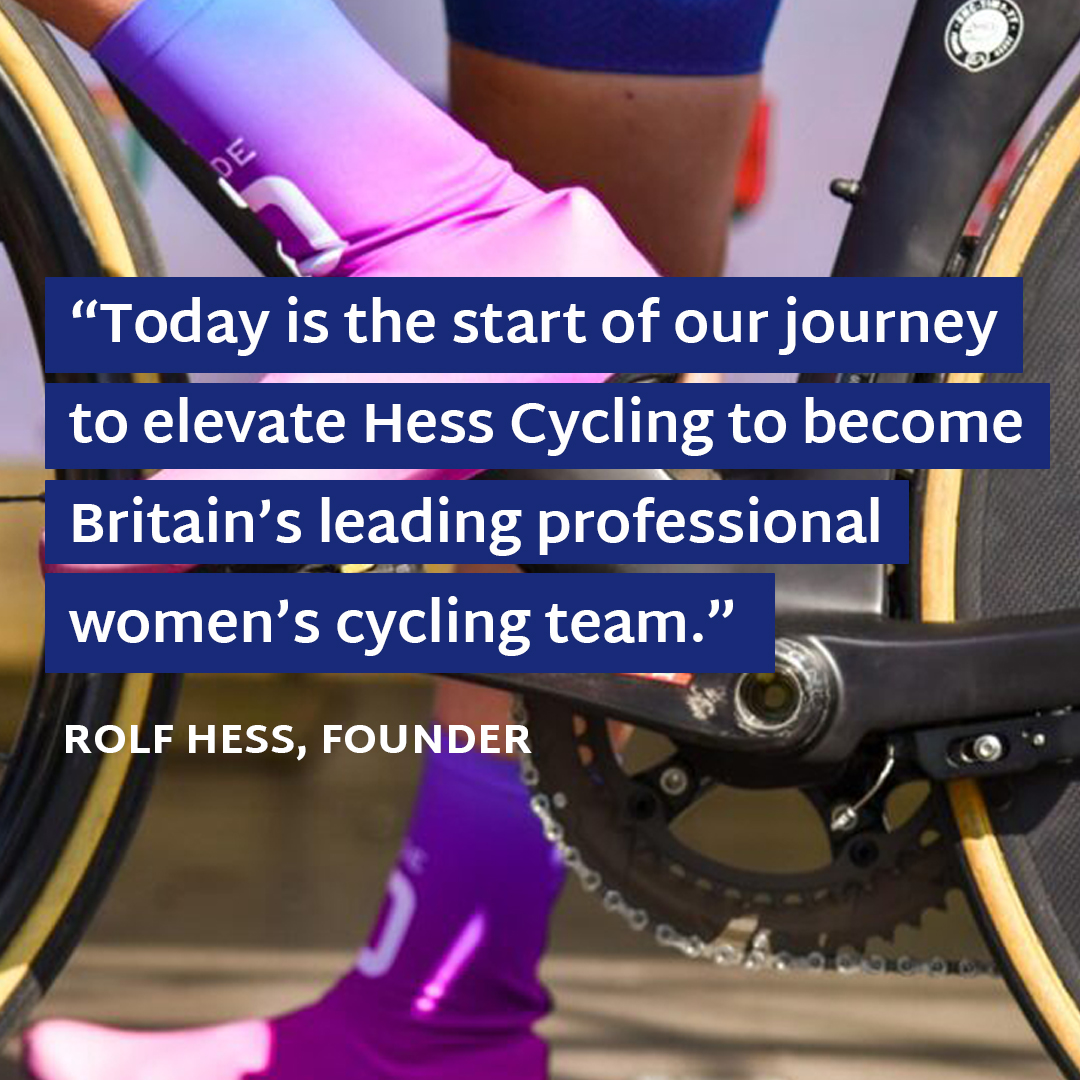 Hess Cycling start journey to reach World Tour Status; currently no British team exist at this level
Intention and application fee submitted to British Cycling to formally race under British license
Roster to be announced featuring multiple National Champions and riders set to race at Paris 2024 Olympics
Great Britain's Holly Ramsey revealed as first new rider
25/10/2024- Hess Cycling have today announced its intention to race under a British Cycling UCI race license as its journey to become the only British Women's team with UCI World Tour status begins.
Founded in 2023, Hess Cycling Team will soon reveal a roster of riders that currently compete at WorldTour level and include a series of National Champions in addition to young, promising British riders. With the new roster, the team's intention is to enter into Tour de France Femmes by 2025 and compete in a series of World Tour races in 2024 across Europe, North America and Asia. Multiple riders will be looking to represent their nations at the upcoming Paris 2024 Olympics.
With a core focus of developing young British riders into future race winners, Britain's Holly Ramsey has been revealed as Hess' first new signing. A talented young rider who finished second in the National Youth and Junior Track Championships 2023 (Junior Female – Pursuit) and who has regular represented Great Britain at age group level, Holly will join the team full time.
The full rider roster will be released in November 2023 with team colours, kit and partners announced in early 2024.
Hess Cycling has raced under a Luxembourg race licence in 2023 at Continental Level while the foundations of the team have been established. The switch to a British licence is part of a long-term strategy to create a new dynamic and provide additional support to the British female cycling community. Hess are aiming to create the leading environment for a British team to grow and excel to compete in the rapidly growing women's cycling landscape.
Hess Enterprises Limited, the Hess family-owned group of companies operating out of London within luxury goods, beverages, sports, entertainment and skin care, who are financially backing the team. It is led by Rolf Hess who is building a collective of likeminded groups, who wish to grow women's sport and cycling.
Rolf Hess, Founder and Chairman of Hess Enterprises and Hess Cycling, said: "Today is the start of our journey to elevate Hess Cycling to become Britain's leading professional women's cycling team. Over recent years, women's cycling is seeing a rapid growth in media exposure, commercial viability and financial sustainability. Women's football, rugby and cricket are all booming and we believe there is no reason why cycling should not follow this path. Over the last 12 months we have worked to build the management team and commercial structures and we look forward to supporting the cycling community here in Britain and further afield."
Holly Ramsey, Hess Cycling, said: "I'm thrilled to join Hess Cycling as the team sets out on its journey to become the leading British women's professional cycling team. The environment the team are looking to create is exactly the right one for me to continue to develop as a rider and I look forward to joining up with my fellow riders. For years, I've looked up to British women racing on a Continental and World Tour level as role models and to now compete alongside them is going to be massively exciting."